Center for the Future of Arizona names Peter Boyle to lead the statewide expansion of its Beat The Odds School Leadership Academy
Posted on September 11, 2020 • Category: News Release
Proven executive training and leadership development program equips school and district leaders with key skills and knowledge to lead through change and achieve equity in education for all learners
PHOENIX (September 11, 2020) – The Center for the Future of Arizona (CFA) today announced the addition of Peter Boyle to its team as Director of Educational Leadership and Innovation.
In his new role, Boyle will lead the statewide expansion of the Beat The Odds School Leadership Academy (BTO Academy), which is part of CFA's broader work in education innovation aimed to help Arizona realize educational excellence and equity for all Arizona communities.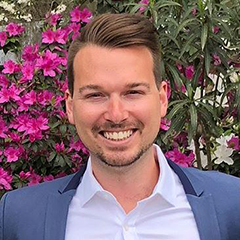 Peter Boyle - Director, Educational Leadership and Innovation
CFA was awarded $700,000 in grant funding by Governor Doug Ducey for its BTO Academy though the AZCares Plan in June 2020. The program delivers proven executive training and leadership development to school and district leaders that impacts student achievement and creates a culture of high expectations for schools.
Since 2017, the BTO Academy has provided executive leadership training to more than 245 Arizona school leaders from 25 public school districts and charter networks across the state, including many that serve students of color and students from low-income families. Boyle will take on the lead role driving the BTO Academy's expansion throughout Arizona.
Boyle is an experienced educator with a strong track record as a school leader. He is the Founding School Director of Western School of Science and Technology: A Challenge Foundation Academy, a high-performing urban charter school in Phoenix. Boyle served as executive director and school principal, managing 45 staff and 550 students. He is an expert in data-driven instruction programs, staff culture, and STEM education, speaking at state and national conferences on those subjects. Under Boyle's leadership, Western School of Science and Technology became the highest-performing public high school in west Phoenix and achieved its full accreditation from Cognia.
Boyle's achievements include being named the statewide Educator Honoree by the Children's Action Alliance, Western: CFA's Team Administrator of the Year, and winning the Maryvale Revitalization Corporation Educating Excellence Award.
Boyle is a graduate, coach and facilitator of the BTO Academy. Additionally, he's a graduate of Valley Leadership, Class 38, and served as a Corps Member in Teach For America. He holds a M.Ed. from Arizona State University in secondary education and a B.S. from the University of North Carolina in business administration. In July 2020, he earned an EdLEADers Certificate from Stanford University.