State of Black Arizona releases Volume V report urging Arizona leaders to improve equitable outcomes for the African-American community
Posted on October 07, 2021
By Greater Phoenix Economic Council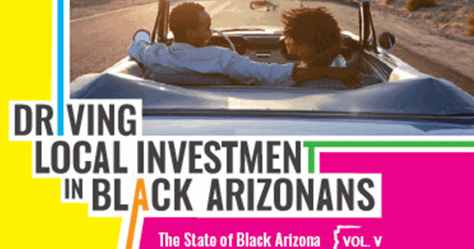 The trailblazing report outlines statistics focused on the accessibility of resources and top issues of concern, such as educational attainment, living-wage jobs, and housing affordability
The State of Black Arizona (SBAZ) today has released its Volume V report to provide a holistic view of economics, healthcare, and employment among the Black community in the state.
The organization's goal is to make the report a catalyst for positive substantive change regarding the policies, infrastructures, and resources that impact the Arizonan Black community. The report provides actionable information for legislative officials, educational and business leaders, and the entire community.
"This report will serve as a compass to direct decision-makers that want to make an impact in the Arizona community," said Teniqua Broughton, Executive Director for the State of Black Arizona. "Disparities hinder Black Americans' prosperity. This dates back to a history of slavery and the disenfranchisement of our inalienable rights. The time for action is now."
Black Americans make up 5.2% of the state's population, according to data from the U.S. Census Bureau, yet are some of the most statistically disadvantaged people in Arizona.
According to the U.S. Census Bureau, 2018 American Community Survey 5-Year Estimates, the homeownership rate for Black Americans in Arizona is 34%, compared to the state average of 64%.
According to the U.S. Census Bureau 2018, Black Americans have the third lowest average household income in Arizona at $50,000 per year.
SBAZ hopes that the aggregation of data in one place will help lawmakers and community leaders see the gaps in resources and where further action and investment needs to be prioritized.
The Volume V report was developed in partnership with the Center for the Future of Arizona (CFA) which was instrumental in providing data and collaborating with SBAZ on the community outreach activities that informed the report development. Other Volume 5 report collaborators include the Arizona Center for Economic Progress, Black Chamber of Arizona, Greater Phoenix Economic Council, and Greater Phoenix Urban League.
Sybil Francis, Ph.D., President & CEO of CFA said, "The findings of this report reiterate CFA's recent 2020 Gallup Arizona Survey, which found Arizonans want fair, just and equal treatment of all people. But, we recognize we are not there yet. That's why it is critically important to empower leaders with a data-driven approach for taking action that creates a stronger and brighter state for all Arizonans."
Without the support and commitment from these organizations and corporations the Volume V report would have been most challenging to execute. On behalf of the State of Black Arizona we would like to thank: Our title sponsor: Arizona State University Foundation, our premier sponsor Arizona Community Foundation and our Silver sponsor Vitalyst Health Foundation. Our Bronze sponsors Arizona Public Service, Maricopa Community College District and Salt River Project. Our supporting sponsor Mass Mutual's Passage Group.
To mark the release of the trailblazing report, SBAZ and CFA are working together to design and implement community outreach activities to discuss report findings, encourage local action and gather more feedback. Details about the event are forthcoming.
Previous volumes of the State of Black Arizona's Reports can be found below:
Volume I
Volume II
Volume III
Volume IV
Volume V
The State of Black Arizona is a nonprofit based in Phoenix, that strives to provide research and data that informs the community on the status of Blacks in Arizona. For more information about SBAZ, visit www.stateofblackarizona.org.