Survey finds education, immigration reform are priorities for Arizonans
ASU-sponsored poll also reveals agreement on expanding access to voting
Posted on April 22, 2021 • Category: Story
By Mary Beth Faller – Reporter, ASU News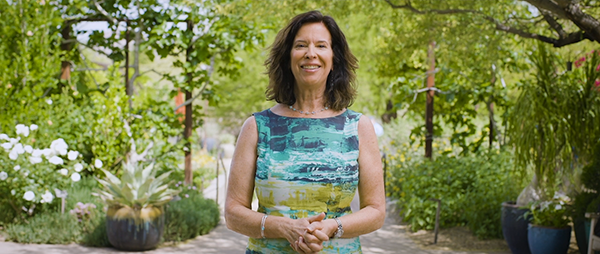 Sybil Francis, president and CEO of the Center for the Future of Arizona, presented the results of the recent Gallup survey during a livestreamed event on Wednesday.
A new statewide survey of Arizona residents finds broad agreement on several key issues facing the state, such as the need to close education gaps for low-income students and the desire to reform immigration laws.
The results were released April 21 by the Center for the Future of Arizona in a new report titled "The Arizona We Want: The Decade Ahead."
Sybil Francis, president and CEO of the center, said the report shows common ground across a wide swath of the population.
"I have felt somewhat discouraged by the national narrative and relentless focus on partisanship," she said during a livestreamed event Wednesday.
"When I saw the results of the survey, it became clear to me that we agree on many of the things that we need to. Across Arizonans' diverse geography, and across age, income and education levels, race and ethnicity and party affiliation, we agree on what we want and what we need to do."
Among the highlights of the survey:
70% of respondents are proud to live in Arizona, but only 44% agree that the state is heading in the right direction.
Only 26% agree the state's public K–12 education is of high quality, while 79% believe action is needed to close educational gaps for children who are low-income, have disabilities or are English language learners.
Only 28% agree that race relations are good. Of respondents who are people of color, the following said they felt discriminated against in the past 12 months: Black, 53%; Latino, 39%; Asian, 39%; and American Indian, 38%.
College-educated young people are less optimistic. Only 45% agree that Arizona is the perfect place for people like them, vs. 64% of all other respondents. Just 34% agree that Arizona is headed in the right direction, vs. 45% of all other respondents.
86% agree that there should be comprehensive immigration reform that includes a pathway to citizenship.
87% agreed that it's important to guarantee affordable health care and insurance for Arizonans with preexisting health conditions, and 85% said it is important to make mental health services available and affordable for all Arizonans who need them.
27% of Arizonans with children 18 or under say the cost of child care is preventing them from going back to work or school – a figure that increases to 54% among Black Arizonans who were surveyed.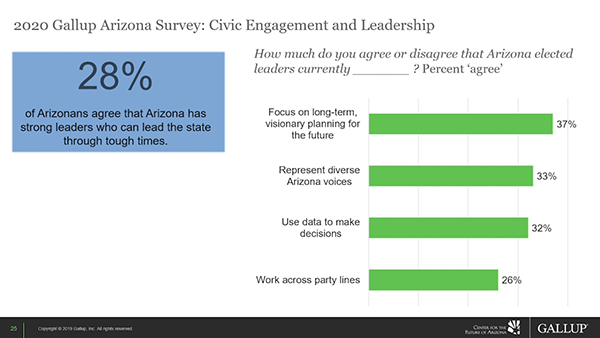 The survey asked Arizonans about their confidence in their elected leaders.
The Center for the Future of Arizona is a nonprofit organization founded in 2002 by Lattie Coor, former president of ASU. Part of the center's mission is to share data. The report was based on a 2020 Gallup poll of more than 3,500 Arizonans. This was the second Gallup poll commissioned by the organization in the past 10 years.
The center distilled the results into seven key areas in the report: education, health care, jobs and economic opportunity, environment and sustainability, civic engagement, equitable systems, and immigration reform.
Francis called the key areas "a powerful agenda."
"Education consistently tops the chart on issues that matter to Arizonans," she said. "They believe that a highly educated and skilled population is important to our future.
"Yet as you heard, only 1 in 4 considers our state's K–12 public education to be high quality."
Low-income respondents believe they don't have access to the education and training needed for higher-paying jobs.
"We've seen that lower levels of education correlate with lower job satisfaction and job security, while those with higher levels of education don't see a path to growing their careers in Arizona," Francis said of the results.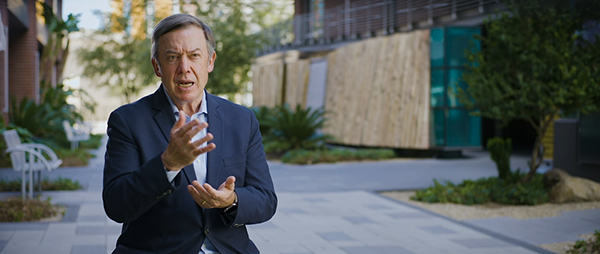 Michael Crow, president of ASU, one of the sponsors of the survey, said the results can help guide him in directing the university.
"We need to focus on the needs and aspirations of Arizona's young people and create more opportunity to build careers in Arizona."
The survey results, released a day after a jury found former police officer Derek Chauvin guilty in the killing of George Floyd, a Black man, in 2020, showed a division of opinion on inequity in the criminal justice system in Arizona: 32% agree that law enforcement treats everyone equally, while 45% disagree and 23% are neutral. On the question of whether the criminal justice system treats everyone equally: 26% agree, 45% disagree and 29% were neutral.
However, 77% agreed that Arizona's prisons need to focus more on rehabilitation.
And, even as the state legislature is currently fielding several bills to restrict voting access in Arizona, the survey found overwhelming and broad support for making it easier to vote.
73% favored sending all registered voters a mail-in ballot, and that support was 91% among respondents ages 18 to 34.
77% favor automatic voter registration when applying for a state driver's license.
79% favor adding early in-person voting over multiple weeks leading up to Election Day.
The results of the poll can help leaders make decisions, according to Michael Crow, president of ASU, one of the sponsors of the survey.
"It tells me where the people of Arizona have shared public values, where they connect, and it gives me a compass heading to help guide the university on where to focus our energy and what new things to create," he said.
"The way to get started is to begin effort after effort around implementing those values and then measure the progress we're making."
The livestreamed event featured comments from several leaders in Arizona. Zach Yentzer, executive director of Tucson Young Professionals, said the data support the general feeling among his members, who are anxious about affordable housing, health care and career opportunities.
"We think of Arizona as this beautiful state, but we also have a lack of confidence that careers can be built in Arizona," he said.
"We know this to be certainly true in Tucson, which has entry-level opportunities and senior-level leadership opportunities. But that middle part, where young professionals are looking to buy a home, raise a family, grow into the mid-stage of their careers, we're seeing that as a donut hole. I think that has to be solved."
Reyna Montoya is an ASU alumna and the CEO and founder of Aliento, a nonprofit that provides support and resources to immigrants, including young people in the Deferred Action for Childhood Arrivals program. She said that the overwhelming support for immigration reform shown in the results must translate into action.
"I wish I could wake up one day and imagine what our young people could do with their time if they didn't have to constantly worry about deportation, family separation and not being able to pay in-state tuition because they are undocumented," she said.
"Imagine the brilliant capacity these young people could feel, becoming a teacher, becoming a counselor, to maybe being our next mayor or state legislator or being able to do research on cancer."