Here are the 2022 Phoenix Business Journal Best Places to Work finalists
Posted on November 02, 2022 • Category: Story
By Greg Barr – Editor in Chief, Phoenix Business Journal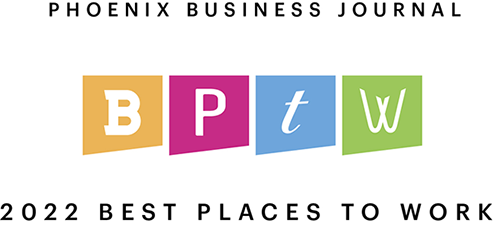 With labor shortages and employee turnover continuing to be major causes of sleepness nights for some managers and corporate bosses, smart companies are drilling down to consider the perks, practices and policies that can attract top talent — and keep them engaged.
The Phoenix Business Journal's long-running Best Places to Work Awards program highlights those forward-thinking employers in the Valley, and a record number of small and large businesses and organizations submitted nominations for the 2022 awards program.
Once again, PBJ partnered with Quantum Workplace, which independently evaluated the nominees. After companies applied for this program, Quantum conducted surveys of their local employees and scored each employer based on those responses to come up with this year's 100 honorees.
The 100 honorees are placed into five company size categories: Micro (10-49 employees, Small (50-99 employees, Midsize (100-249 employees), Large (250-999 employees) and Extra-large (1,000 employees or more).
The winners and final ranking will be revealed at the 2022 Best Places to Work Awards luncheon event, our largest in-person event of the year, set for Thursday, Dec. 8 at the JW Marriott Phoenix Desert Ridge Resort & Spa (wear your coolest '70s costume to match the theme of the event). Get tickets here.
The five Best Places to Work lists and related coverage will appear in the Business Journal's weekly print and digital edition on Friday, Dec. 9. This year's presenting sponsor is CornerStone Staffing.
Below is an alphabetical listing of the honorees in each size category:
Micro category finalists:
Alston Construction
AP Professionals
Blue Signal LLC
Brighton Jones
Catholic Education Arizona
Center for the Future of Arizona
Clutch Solutions LLC
Commit Agency
Coppersmith Brockelman
Creation
Embark
Evergreen Devco Inc.
Evolve Public Relations & Marketing
GoldBook Financial
HCVT
Ideation Design Group
Krause Architecture + Interiors
Lohman Company PLLC
M.S. Howells & Co.
Matic
Matsock & Associates Inc.
NexMetro Communities
PIVIUM Inc.
RoadRunner Recycling
Roth Staffing Companies LP
SEI
SilverTree Wealth Partners
State Forty Eight
Stellar Technologies
Tech Fabric
The Arizona Group
The James Agency
Trainual
Trelevate
Small category finalists:
Arizona Bank & Trust
Benefit Commerce Group, an Alera Group Company
Burch & Cracchiolo
Candelen
EvolvedMD
Frazer Ryan Goldberg & Arnold LLP
Govig & Associates
Imagen Dental Partners
IT1
Jaburg Wilk
JE Dunn Construction
LGE Design Build
Liveops
Lockton
Mattamy Homes
MST Solutions
Palomar Phoenix Hotel
Russ Lyon Sotheby's International Realty
Soul Surgery
TFO Phoenix Inc.
Walton Global
Midsize category finalists
Adobe Care and Wellness
Ally Pediatric Therapy
Arizona Painting Company
Bell Bank
CHASSE Building Team
Core Construction
Crawford Mechanical Services
Delta Dental of Arizona
Goodmans Interior Structures
Homeowners Financial Group USA LLC
IPRO
ISSA LLC
K2 Electric
MEB Management Services
MicroAge
Perkins Coie LLP
Prosper
Qwick
RSM US LLP
SDB Contracting Services
Slalom
Transact Campus
TruWest Credit Union
WaFd Bank
World Wide Technology
Large category finalists
Accenture
Arizona Financial Credit Union
AZPB Arizona Diamondbacks
Best Western
Brycon Corporation
EPCOR USA
Kitchell
Mark-Taylor Companies
McCarthy
Meritage Homes
Solari Crisis & Human Services
Sundt Construction
Turo Inc.
VIP Mortgage
Willmeng Construction Inc.
Extra-large company finalists
Achieve
Blue Cross Blue Shield of Arizona
DriveTime Automotive
Edward Jones
Insight