CFA To Bring High Impact Civic Education Initiative to Students Statewide Thanks to Support from The Steele Foundation
Posted on March 22, 2022 • Categories: Story, The Arizona We Want in Action
By Heather Thornton – Director, Strategic Marketing + Communications, Center for the Future of Arizona
Center for the Future of Arizona (CFA) was recently awarded $150,000 for the School Participatory Budgeting (SPB) program by The Steele Foundation–the philanthropic organization committed to helping children develop into confident, happy, and healthy human beings. This gift will support CFA and its partners with the current implementation and statewide expansion of SPB, a high-impact civic education initiative aimed at helping students tap into their civic leadership and make lasting impacts on their schools and community now and in the future.
Civic education and engagement are critical to a healthy democracy and thriving communities–and efforts to strengthen our civic health are more critical than ever. Arizona faces significant civic opportunity gaps along lines of education, age, ethnicity, and income. In 2020, 15% of Arizona's non-voters said they didn't participate in the election because they felt that their vote wouldn't matter. CFA's latest Gallup Arizona Survey data show that only 33% believe Arizona leaders represent diverse voices, and only 26% see leaders working across party lines. At the same time, Arizonans are hungry for action–76% support making K-12 civic education a priority, and 75% want to work together across differences to solve problems.
In partnership with schools across the state, the SPB program nurtures civic health and builds the pipeline of civically-minded Arizonans by engaging young people in learning democracy by doing. SPB empowers students to make decisions on their schools' budgets through a student-led process that includes collecting and cultivating ideas for campus improvement projects, developing detailed project proposals, deliberating ideas, and campaigning and voting on which projects ultimately get funded. All stages of the process are led by the students, with the support of CFA program staff and our partners, their teachers, and school leaders.
The culmination of the SPB program cycle is known as SPB Vote Days, which are underway for 2022 from late February through April. Over 35,000 students– from Queen Creek and Chandler to Sunnyside and Phoenix school districts – will decide how their SPB-allocated funding is utilized. In partnership with local elections officials and community organizations, CFA helps schools simulate a real-life election day on campus. Students eligible to register for the next state and federal elections are also provided an opportunity to do so during Vote Days.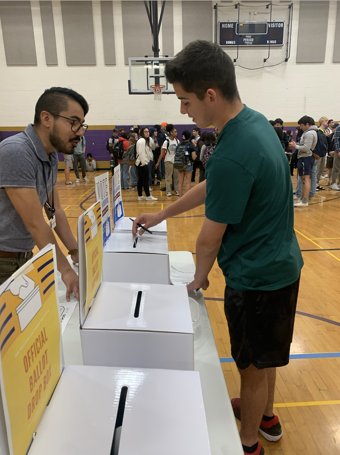 SPB Vote Days take place February through April each year. This year, over 35,000 Arizona students are voting on school improvement projects they will fund. Seen here, a student at Queen Creek Unified School District casts their vote.
"We are deeply grateful to The Steele Foundation and their support of our efforts to ensure all Arizona students have access to life-changing civic engagement experiences that inspire their long-term participation in creating a stronger and brighter future for our state," said Dr. Sybil Francis, President & CEO of CFA. "We are thrilled to grow our impact exponentially."
CFA partnered with the Phoenix Union High School District, Arizona State University Participatory Governance Initiative, and the national Participatory Budgeting Project to launch the nation's first school district-level SPB pilot in 2016. SPB now engages 63,000+ students annually across 48 school communities in Maricopa and Pima Counties. To date, school district partners have invested nearly $500,000 in funding the student-led improvement projects, including new community gathering spaces, additional resources for managing mental health issues, and environmentally sustainable practices. Over 5,000 new Arizona voters have been registered for future elections through the SPB Vote Days. ASU Participatory Governance Initiative and the national Participatory Budgeting Project continue to serve as key partners in the program.
The recent investment from The Steele Foundation will support the statewide expansion of the program to serve many more students and school communities. The immediate goals include reaching over 55 school communities and 75,000 students statewide by the end of 2023, and advancing a strategic model for sustainable long-term growth.
CFA is actively seeking new school and district partners. Email [email protected] to discuss bringing School Participatory Budgeting to your school community this fall.