Avoiding Election Pitfalls By Focusing on What the Majority of Arizona Voters Care About
What didn't make the Arizona Voters' Agenda provides insight into what to focus on instead
Posted on July 28, 2022 • Category: News Release
As primary campaigns hit the final stretch, several of the front and center topics being pushed run the risk of "turning off" significant portions of the electorate. To deter non-priorities that are receiving outsized attention and shift focus to what most voters want to be discussed in this election, Center for the Future of Arizona (CFA) announced today several topics that didn't make the Arizona Voters' Agenda– a data-driven look at what a majority of likely Arizona voters care about and want candidates to address in the midterm election.
The Arizona Voters' Agenda was developed from recent survey research of Republican, Democratic, and independent/unaffiliated voters of all ages and is built on where a majority of likely voters across political and age groups agree. The data reveals topics that are most important to voters. It also shows that several of the topics currently dominating political dialogue are not prioritized by majorities of voters.
"Pitfalls" create dead ends in the political discourse and drive attention away from the significant number of issues upon which large portions of the electorate agree. CFA aims to shift election dialogue away from the pitfalls of divisive issues, which tend to stifle solution-building and cause voters to tune out.
"The polarization narrative dominates our political life, and it misleads us. The way to work our way out of disillusionment with our politics is by avoiding these pitfalls and working together to achieve the prosperity Arizonans want for our state and its people," said Dr. Sybil Francis, President & CEO of CFA. "A failure to heed the voices of Arizona voters and their preferences in our election campaigns is a missed opportunity to further our democracy. This is an opportunity to better align the priorities of Arizona voters with their electoral choices. The broad agreement we see across parties and age demographics on the issues important to the future of our state can and should be reflected in our politics."
CFA worked with HighGround Public Affairs to develop the Arizona Voters' Agenda survey. The survey asked likely voters statewide, across political and age groups, to answer questions on policy and values and to rank the importance of a wide array of issues and topics across education, economy & inflation, water, environment, election reform, and immigration. For an issue to make it on the Arizona Voters' Agenda, a majority of all likely voters must "strongly support" it, and majorities of every political and age segment must "strongly or somewhat" support it.
Several issues that have received attention in political rhetoric and media coverage did NOT reach the level of support among likely voters necessary to be included:
Banning the teaching of critical race theory and controversial topics
Reducing income taxes
Completing the wall on the border between the United States and Mexico
"We hear so much about polarizing issues that it is easy to think that most voters care about them, but they are of interest to a vocal minority of Arizona's likely voters. They are 'pitfalls' because the media and others often appear to be trapped covering the disagreements some people feel strongly about instead of focusing on areas where there is significant agreement among the majority," added Dr. Francis.
There is an opportunity for candidates, the media, and community members holding forums to focus on engaging more of the electorate by addressing broadly shared priorities seen in the Arizona Voters' Agenda. Some examples include:
Voters expressed near unanimous support for "Expanding career and technical education opportunities."

In fact, 97% of likely voters support this policy priority, including 96% Republicans, 100% independent and unaffiliated voters, and 98% Democrats.

Voters prioritize investing state surplus dollars over cutting taxes. In fact, 82% of likely voters agreed with the statement, "Economists forecast Arizona will have a $4 billion budget surplus over the next three years. Instead of continuing to cut taxes, we should be increasing funding for education, public safety, roads, and other critical investments that will boost our long-term economic growth."

This includes 70% Republicans, 93% independent and unaffiliated voters, and 95% Democrats.

Voters support "enacting comprehensive immigration reform with a pathway to citizenship."

In fact, 81% of likely voters support this policy priority, including 70% Republicans, 95% independent and unaffiliated voters, and 92% Democrats.
"Voters are more interested in hearing about how candidates plan to move the state forward than what divides us," concluded Dr. Francis. "We hope those driving the conversation through reporting and debates and, most importantly, the candidates themselves, will sincerely reflect on this information and focus on what matters to a majority of Arizonans as they compete for their votes and develop plans to lead over the next term."
CFA has developed a guide to holding election discussions that address the priorities of most voters, with questions for candidates and tips for avoiding debate pitfalls:
About the Arizona Voters' Agenda
CFA is focused on bringing Arizonans together around a positive agenda based on where they agree on priorities to move the state forward and realize The Arizona We Want. The Arizona Voters' Agenda was launched as an extension of CFA's survey research efforts to identify and create The Arizona We Want.
CFA has analyzed the statewide survey data to determine which issues make the cut for the Arizona Voters' Agenda based on:
a primary threshold, the number of likely voters that "strongly agree/support" is 50% and above,
and a second threshold of the sum of "somewhat agree/support" and "strongly agree/support" (i.e., Total Support/Agree) is 50% and above among every political party (Republican, Independent/Undecided/Other, and Democrat) and age group (20-29, 30-39, 40-49, 50-64, 65+).
About the Survey
The survey was conducted among likely voters from April 12 through 19, 2022, with a random sample of 500 people. The poll surveyed likely Arizona 2022 General Election voters with a history of electoral participation and was balanced to model the likely turnout of voters across party, age, region, and gender. The live interview survey of voters was conducted in English and Spanish by HighGround Public Affairs to landline and cell phone users. Based on previous midterm election trends, the partisan advantage was set at +8% GOP. The margin of error is ±4.3%.
Survey Demographics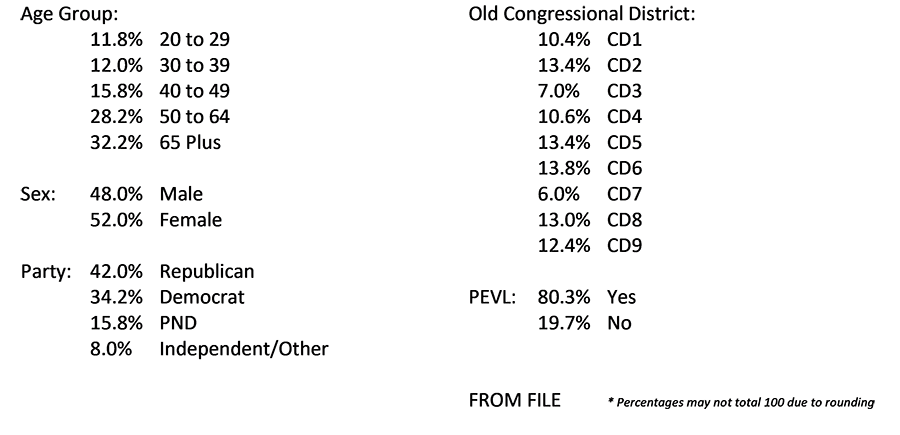 The Arizona Voters' Agenda initiative is supported in part by Arizona Community Foundation, Helios Education Foundation, Pharos Foundation, Rodel Foundation of Arizona, Thomas R. Brown Family Foundation, and Southern Arizona Leadership Council. CFA also coordinated with Education Forward Arizona, who conducted an additional poll to gain deeper insights into likely Arizona voters' priorities on education. The findings are available at educationforwardarizona.org.
About Center for the Future of Arizona
Center for the Future of Arizona (CFA) is a nonprofit, nonpartisan organization that brings Arizonans together to create a stronger and brighter future for our state. All of CFA's work is to ensure that the public values Arizonans share are realized for all by shaping and advancing The Arizona We Want–a shared vision of success where all Arizonans, now and in the future, thrive and enjoy sustained prosperity, unmatched quality of life, and real opportunity.