Center for the Future of Arizona Receives Esteemed Proclamation from Governor in Honor of 20th Anniversary
Posted on October 25, 2023 • Category: News Release
Center for the Future of Arizona (CFA), a trailblazer in shaping the state's trajectory through research, measurement, community partnership, and impact initiatives, is proud to announce that it has been honored by Katie Hobbs, Governor of the State of Arizona, with an official proclamation declaring October 25, 2023, as "Center for the Future of Arizona Day." This distinguished recognition coincides with CFA's 20th Anniversary, marking two decades of relentless dedication to fostering an informed, engaged, and forward-looking Arizona.
The proclamation acknowledges CFA's significant statewide impact and its unique role in developing a long-term, shared vision for Arizona based on the collective will and aspirations of Arizonans. "This honor is a testament to the hard work, deep commitment, and enduring passion of countless individuals and partners who believe in a bright future for Arizona and coming together to make it a reality," said Dr. Sybil Francis, Chair, President & CEO of Center for the Future of Arizona.
For 20 years, CFA has been at the forefront of identifying and addressing the essential challenges and opportunities facing Arizona. By championing educational excellence, economic vitality, and a robust civic climate, CFA has played an integral role in enhancing the quality of life for all Arizonans.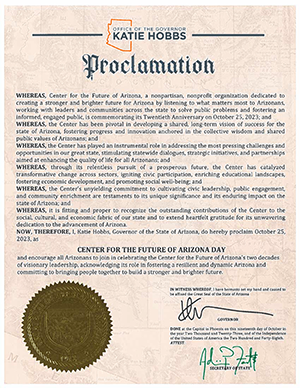 "This proclamation does not merely recognize our past achievements but serves as a rallying call for the future," Dr. Francis continued. "It underscores the importance of collective effort and signifies a renewed commitment to building a resilient, innovative, and inclusive Arizona."
On this historic day, CFA recommits itself to its foundational principles, aspiring to drive transformative change and sustainable progress across the state. CFA invites all Arizonans to join in reflecting on the strides made thus far and to participate actively in shaping the bright future that lies ahead for the Grand Canyon State.
For more details about Center for the Future of Arizona and its initiatives, or to join in its mission, please visit arizonafuture.org/shapetomorrow.