This Arizona Gives Day, Invest in Creating a Stronger and Brighter Future for Our State
Posted on March 21, 2023 • Category: News Release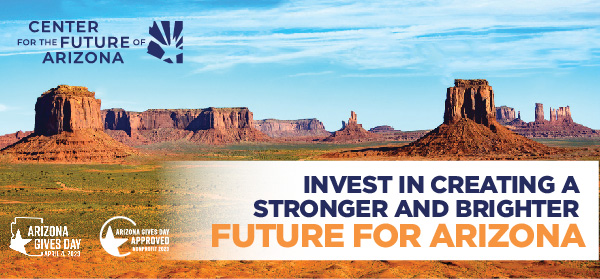 Since our founding 20 years ago, Center for the Future of Arizona (CFA) has focused on the greater good and what matters most to our community. Over the years, CFA's commitment to advancing a statewide agenda that reflects Arizonans' top priorities has only grown stronger.
We are working to achieve The Arizona We Want, a shared vision of success around what matters most to Arizonans that expresses their highest aspirations and hopes for the future. Everything CFA does is to ensure that Arizonans' Shared Public Values, which make up the vision of The Arizona We Want, are realized for all. We listen to Arizonans to learn what matters most, share trusted data about how Arizona is doing, bring critical issues to public attention, and work with communities and leaders to solve public problems:
Identifying Shared Priorities & Championing the Voices of Arizonans
CFA is committed to shining a light on who we are as Arizonans and that we can come together around what the broad majority agrees is best for Arizona. Through longstanding survey research with highly regarded local and national partners and community engagement efforts, CFA identifies what matters most to Arizonans and puts the voices of our state's people at the forefront of decision-making. By focusing on the fact that Arizonans agree more than disagree about the critical issues, we advance a positive agenda that creates hope, allows community trust and collaboration to grow, and helps uncover ways to build new bridges and solutions that benefit everyone.
"Arizona has long been a place where big ideas are embraced and celebrated. Now more than ever, it is critical that we collaborate across industries and disciplines to achieve a bold vision for the future of our state."
– Sandra Watson, President & CEO, Arizona Commerce Authority
Measuring Arizona's Progress and Mobilizing Data Into Action
CFA created the Arizona Progress Meters to measure how Arizona is doing and our collective progress in areas critical to achieving The Arizona We Want. The Arizona Progress Meters provide reliable and regularly updated statewide data on education, jobs, healthcare, environment, civic engagement, infrastructure, and young talent. We help communities and leaders leverage them as tools for data-driven dialogue, decision-making, solution-building, and action.
"In a rapidly growing region like Pinal County, there are always many competing priorities. The Arizona Progress Meters give us focus, connection to state data, and the ability to take action towards The Arizona We Want."
- Rona Curphy, Chair, Pinal Alliance for Economic Growth
Moving Arizona Forward with Impact Initiatives & Programs
The core building blocks of education, workforce, and civic engagement are central areas to advancing economic prosperity, quality of life, and opportunity, and in which CFA contributes to achieving The Arizona We Want. Alongside hundreds of partners across the state, CFA addresses complex challenges with positive, innovative, and collaborative solutions that impact many communities and thousands of lives every day – from advancing student-centered learning and increasing college attainment, career readiness, and economic opportunity to strengthening workforce development systems and empowering civic leaders to solve critical problems. See CFA's impact by the numbers.
With the continued contributions of individual donors, foundations, and corporations, CFA can sustain and grow our efforts to achieve a stronger and brighter future for Arizona. We invite you to invest in our work today. Arizona Gives Day is April 4, but you don't have to wait - early giving is open!