Tucson Students Inform Community Action
Participatory budgeting success in schools is trickling up to the municipal level
Posted on March 17, 2023 • Categories: Story, Impact Stories, The Arizona We Want in Action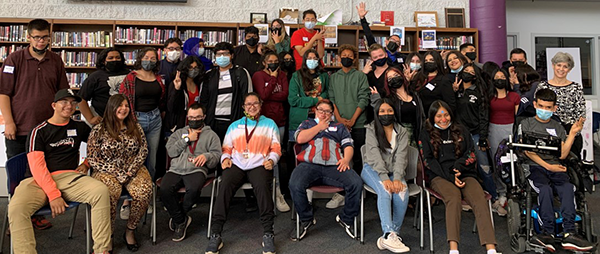 Students and educators leading the School Participatory Budgeting initiative at Sunnyside Unified School District.
Involvement inspires investment. Students at Tucson's Sunnyside Unified School District (SUSD) can attest to that truth after learning how democracy works by taking part in CFA's ongoing School Participatory Budgeting (SPB) initiative with the district.
"I didn't know that we could participate in making a difference," said a student involved in the SPB initiative. "I didn't know how much power we could have."
That power, as it turns out, can be measured in influence. At CFA, we understand that initiatives designed to create systems change — including those we lead to improve civic education and engagement to support a healthy democracy — often realize sustainable success through a valuable ripple effect.
In Tucson, the ripple effect of a three-year partnership between CFA and SUSD is now informing one of the city's six representative and administrative subdivisions in implementing its own participatory budgeting initiative designed to actively engage constituents on spending decisions.
Why this work is important, now
Efforts to center the voices of those most impacted in community decision-making could not come at a more critical time. In 2020, 15% of Arizona's non-voters said they didn't participate in the election because they felt that their vote wouldn't matter. CFA's latest Gallup Arizona Survey data show that only 33% of Arizonans believe Arizona leaders represent diverse voices, and only 26% see leaders working across party lines.
At the same time, Arizonans are hungry for action. More than three-quarters of Arizonans support making K-12 civic education a priority, and 75% want to work together across differences to solve problems.
In partnership with schools across the state, CFA's SPB program builds a pipeline of civically-minded Arizonans by engaging young people in a real democratic process that ultimately bears a direct impact on their everyday lives. SPB empowers students to make decisions on their schools' budgets through a student-led program that includes collecting and cultivating ideas for campus improvement projects, developing detailed project proposals, deliberating ideas, and campaigning and voting on which projects ultimately get funded. CFA program staff, partners, teachers, and school leaders support the students along the way.
SPB is grounded in partnerships at the state, national, and international levels. Through close collaboration with Arizona State University Participatory Governance Initiative, CFA is connected to national and international leaders of the participatory budgeting (PB) model, including the Participatory Budget Project (PBP) and People Powered.
Engaging with these organizational networks has allowed CFA to remain at the forefront of innovation in the PB field while elevating the work happening in Arizona as a global model for empowering young voices in the decision-making process and cultivating the next generation of civic leaders.
How investment created influence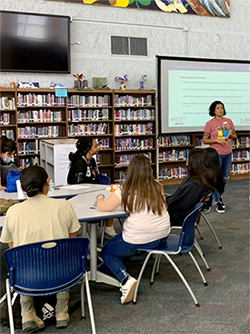 SUSD students at an SPB planning meeting.
CFA's efforts to scale local success for exponential impact regionally, throughout the state, and beyond have come to life through the work with SUSD, a Tucson school district that includes Desert View High School and Sunnyside High School. Combined, the high schools serve about 4,500 students. Through the SPB process in partnership with CFA in 2021-22, SUSD students voted to fund additional outdoor seating around campuses and install shade structures at student drop-off and pick-up locations. Reflecting the depth of their community engagement, the students also decided to collaborate with the Tohono O'odham community to create traditional tribal shade structures that honor the land on which the schools are located. The projects are planned to be completed in 2023.
When Tucson Council Member Lane Santa Cruz, a Desert View alum, set out to launch the first municipal-level participatory budgeting process in Tucson, she embraced the success at SUSD and turned to students as local experts in a new approach to how local government engages its constituents.
Tucson's Ward 1 participatory budgeting process is already underway, and it aims to allocate $450,000 of American Rescue Plan Act funds in a way that demonstrates a commitment to co-governance, distributes funds for culturally-grounded, responsive community projects, and changes the way the city "does business" by increasing public participation in decision-making.
Changing established systems takes time and requires the support of leaders who are eager to innovate on a hopeful promise that the future of Arizona will be better for it. At CFA, we applaud these efforts and will continue supporting community-led decision-making through our SPB program as both a local and national model for civic engagement.
As part of that vital ripple effect, our SPB program will continue to be a resource to communities who want to use participatory budgeting to significantly expand constituent engagement at various levels — from schools to municipalities.
Outcomes that matter
CFA's SPB initiative is making a significant impact across the state, spurring measurable outcomes that matter to the future of Arizona.
SPB currently engages more than 70,000 students annually across 62 school communities in Maricopa and Pima Counties. To date, school district partners have invested nearly a million dollars in funding student-led improvement projects, including new community gathering spaces, additional resources for managing mental health issues, and environmentally sustainable practices, and over 5,500 new Arizona voters have been registered for future elections through the SPB Vote Days.
Recent investments from the Arizona Department of Education's Elementary and Secondary School Emergency Relief (ESSER) Fund and supporters like The Steele Foundation are enabling a statewide expansion of the program to serve many more students and school communities. The immediate goals include reaching over 75 school communities and 150,000 students statewide by the end of 2025 and advancing a strategic model for sustainable long-term growth.
Interested in bringing SPB to your community? Contact Madison Rock, Civic Health Project Manager, to get involved.