Updates to Arizona Jobs Progress Meter Show Continued Improvement in State's Employment Situation; New Tools Make Data More Accessible
Posted on March 16, 2023 • Category: Progress Meter Updates

Recently Arizona's leaders have made big announcements about significant expansions of employment opportunities across the state, especially in the Phoenix Metro Area. Like much of the country, Arizona has been on a journey to recover from pandemic-era employment woes felt most acutely by more remote regions like Flagstaff and by minority populations throughout the state. Recent updates to the Arizona Jobs Progress Meter show that much of the pain of the pandemic has been resolved, with labor force participation, unemployment, and underemployment now near or better than pre-pandemic lows.
Just before the pandemic, Arizona's labor force participation rate had climbed above 62%, meaning that just over 6 in 10 of the population aged 16 and older were working or actively seeking work. Similarly, the unemployment rate was below 5%, and year-over-year job growth hovered around 1.5%. The pandemic quickly impacted the jobs situation, resulting in quarterly unemployment at about 12%, job losses of about 7% statewide, and a decline of 1% in the labor force.
Three years after the nationwide shutdown, things are looking much better for most of the workforce. Overall unemployment rates for Arizona's major regions or metro areas, Phoenix, Tucson, and Flagstaff, are better than pre-pandemic levels. Arizona's statewide unadjusted unemployment rate is just above 3%, with Phoenix below that. Flagstaff, which suffered significantly during the pandemic with unemployment of around 15%, is now down to just above 4%.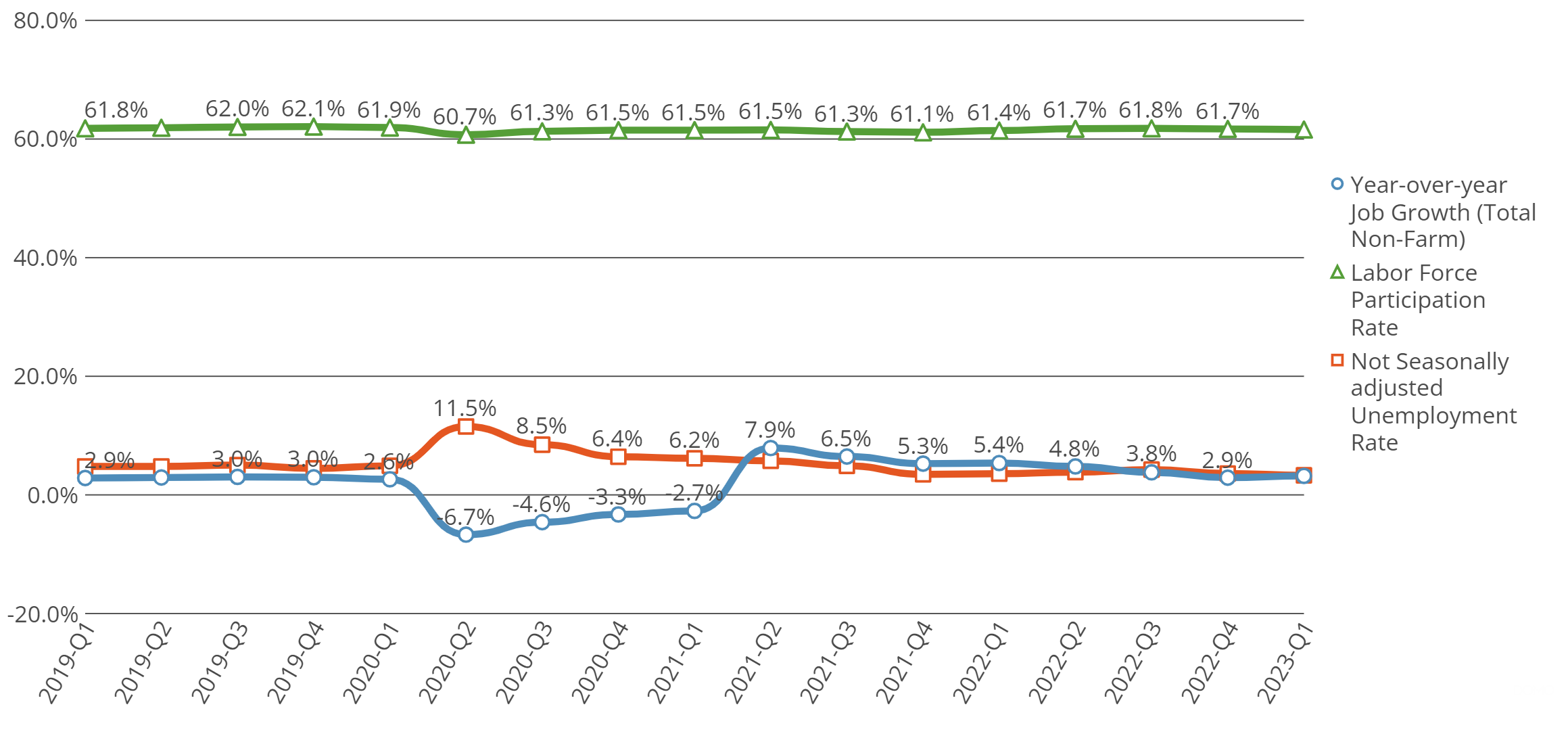 Figure 1: Arizona's employment situation is now at or better than pre-pandemic levels.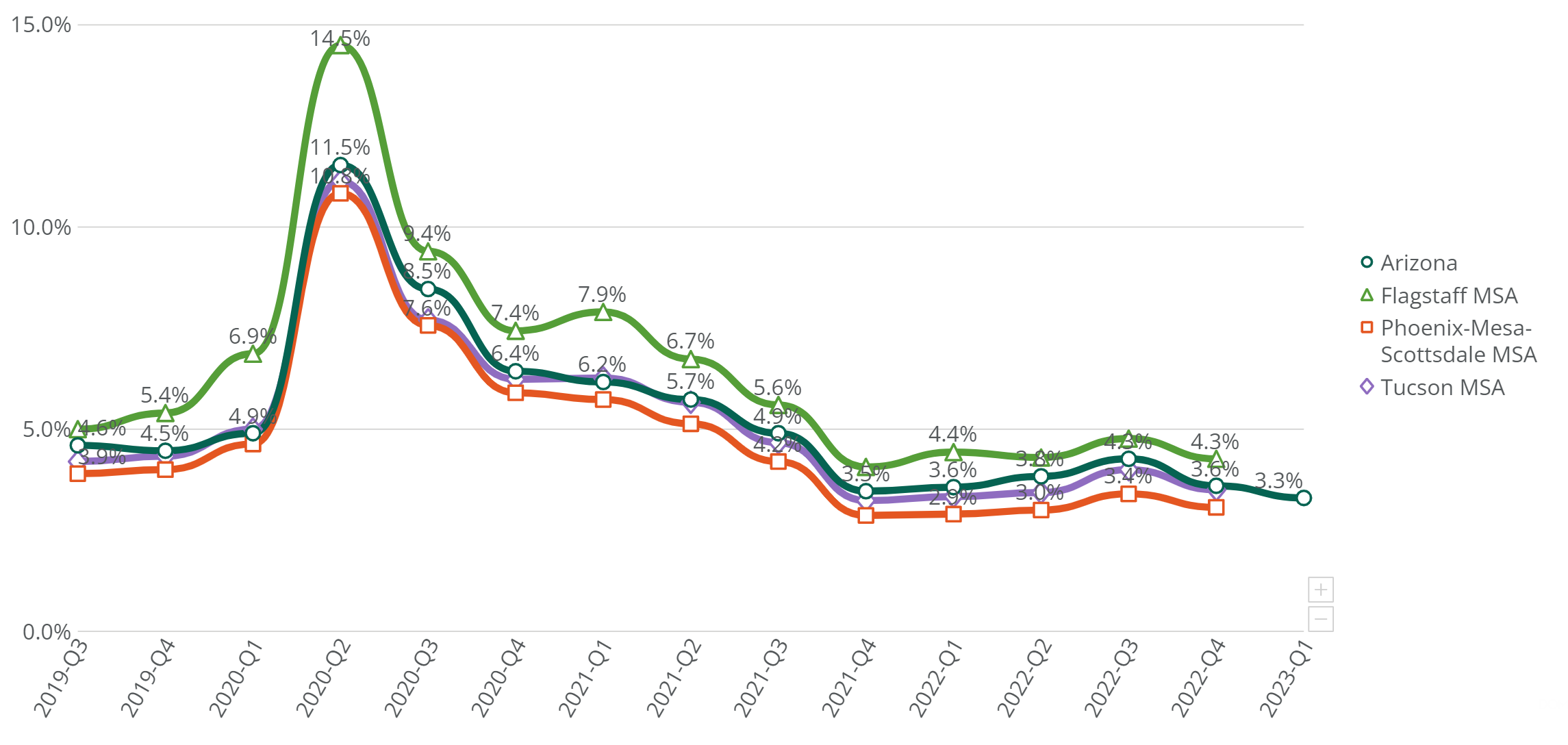 Figure 2: Not-seasonally Adjusted Unemployment--Among Arizona's MSAs, Phoenix, Tucson, and Flagstaff have unemployment levels better than late-2019 lows.
For more information, see the full Arizona Jobs Progress Meter for details on Employment for Arizona's counties, Metropolitan Statistical Areas (MSAs), and the nation as a whole. Unemployment and Labor Force Participation are disaggregated by race, ethnicity, disability status, educational attainment, and other factors.
Why is the Jobs Progress Meter Important?
In our recent Gallup Arizona survey, only 26% of Arizonans say they have the perfect job. Workers reported many challenges preventing them from satisfaction at work, including a lack of equal pay and opportunities for advancement, insufficient mission and impact of their jobs, opportunities to grow their careers, and poor work benefits, among other factors.
Though the Arizona Jobs Progress Meter does not track workplace satisfaction, higher-quality jobs can improve our state's recruitment and retention of quality workers. Higher job growth and lower unemployment can indicate that workers are attracted and retained, and that job availability is aligned with workforce skills.
Track the data regularly on the Arizona Jobs Progress Meter. Using the Arizona Jobs Progress Meter is easier and more reliable than ever, with updated data directly from the Bureau of Labor Statistics available as the numbers are released to the public. New interactive charts allow you to compare data across Arizona and the nation and each of our state's municipal statistical areas and counties where data are available. Pro tip: Try the new export feature, which allows data to be downloaded from the charts and used as needed.
Where Do the Data Come From?
As with all the Arizona Progress Meters, data are publicly available from a trusted and regularly-updated source. Data used in these metrics come from the U.S. Census Bureau and Bureau of Labor Statistics.
CFA developed the Arizona Progress Meters as a tool for policymakers, business leaders, civic leaders, educators, and others across the state to understand how Arizona is doing in areas critical to achieving The Arizona We Want. Eight Arizona Progress Meters provide valuable and regularly updated data on 80+ metrics in education, jobs, healthcare, environment, civic engagement, infrastructure, and more to support policymakers and other leaders' data-driven dialogue, decision-making, and action. Learn more and leverage all the Arizona Progress Meters today>