If You Gave Elementary School Students $2K, How Would They Spend It?
Posted on April 28, 2023 • Category: Story
By Denisa R. Superville – Assistant Editor, Education Week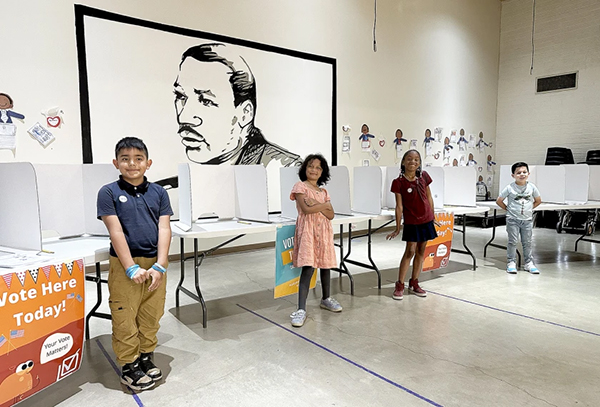 Second grade students at Martin Luther King Jr. Elementary School take a break from assisting with polling how $2,000 in school improvement money should be spent, on April 14, 2023. The Phoenix school allows young students to lead plans for beautification or enrichment.
— Courtesy of Aimee Marques
A new bathroom mirror. Sports equipment. A game room. A vending machine that dispenses healthy snacks—with proceeds funding future field trips.
That's some of what students in the Roosevelt Elementary school district, a K-8 school system of about 7,500 students in Phoenix, voted to invest in when the district gave about half its schools $2,000 to spend as part of a pilot program in student participatory budgeting.
Participatory budgeting is more often used in older grades, in middle and high schools. But the pilot program in Roosevelt allowed students as young as kindergarteners to make their opinions known about changes they'd make if they got the chance.
"You are asking the students essentially, 'What can make my learning experience, my school experience better?' And adults can't always answer that," said Tara Bartlett, a doctoral student at Arizona State University and research assistant at Center for the Future of Arizona, which helps school districts implement participatory budgeting.
What younger students want
Nearly all of the projects the students in Roosevelt voted to approve this month were ones that would improve their learning environment, with a focus on beautification and—unsurprisingly—fun.
That's not uncommon in elementary schools, Bartlett said. When young students get to vote, they often chose projects like school gardens, trees, murals, outdoor seating spaces, refillable water stations, and playground equipment.
A second grader on the steering committee for the spending helps a younger student with voting on April 14, 2023.
— Courtesy of Aimee Marques
Three connective threads seem to run through such choices: social-emotional learning, connecting with nature, and sustainability, she said.
"That's the trend we are seeing with the youngest students—they want that connection to outside, and play, and wellness," Bartlett said.
Ariana Cavarez, 14, a member of the student steering committee that ran the project at John R. Davis Elementary School, was not surprised that sports equipment beat out comfortable seating—even though there's a need for both at her school, she said.
"I was expecting it to win because a lot of people love playing sports, and they're always complaining about not having enough equipment, and that they wished they could play another sport," she said. "Everyone was so excited; so, I knew it was going to win."
There was also an active campaign on campus among different proponents for all of the proposals, which also included a mural.
When students were unofficially polled last year, adding comfortable seating appeared headed for a win, said David Gochuco, who teaches 7th and 8th grade math and was the project's sponsor at the school.
"The ones we have are broken and they are uncomfortable," Cavarez said of the chairs, adding that sitting in them for hours hurts. "More comfortable chairs would have been a great idea, and a lot of kids liked that."
But buying more basketballs, volleyballs, soccer balls and sports equipment won by a landslide. As Cavarez predicted, lots of students seem to have been swayed by the idea of giving more students a chance to play.
Making the process work in the lower grades
The Roosevelt school district gave each participating school $2,000, pulled from funds already set aside for desegregation efforts.
Students initially thought $2,000 was a lot of money and started to brainstorm big-ticket items, like a covering one of the outdoor basketball courts, said Sabrina Orta, an English/language-arts teacher at Southwest Elementary School, where students voted to add a new game room.
But after an experiment in which they were given a gift card to buy snacks for an after-school activity, they soon realized that $2,000 wouldn't go that far and adjusted their expectations. They learned that while they had choices, they also had limitations, she said.
With her direction, students compiled a list of things that could enhance their experience during the school day.
The $2,000 budget also led to a larger discussion between Orta and her students about how adults stretch their monthly salaries, she said.
The Center for the Future of Arizona, which provides curriculum materials, trains teachers, and other assistance to schools implementing participatory budgeting, had to modify teaching materials to make it work for younger students, while still ensuring that teachers were able to connect the project to democratic principles and voting.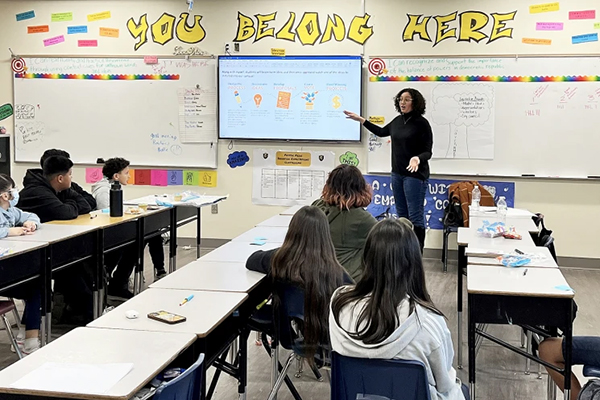 KaRa Lyn Thompson from the Center for the Future of Arizona teaches the participatory budgeting process to the student steering committee at Ed and Verma Pastor Elementary School in Phoenix in January 2023.
— Courtesy of Madison Rock
In elementary school, teachers cover a lot of subject areas and may not necessarily have deep understanding of social studies, civics, or teaching about democratic principles, Bartlett said. Teachers also have to understand that students are still the leaders in the budgeting despite their ages.
The center has found that in elementary schools—where there can be varying levels of maturity—the youngest students weren't necessarily left out of the process, Bartlett said.
"I don't think they ever felt as though they weren't being heard or their voice wasn't being valued," she said. "I think that comes inherently from the onset, from the design of the process—that this a schoolwide initiative and everyone is leading it."
Megan Gestson, the executive director of leadership and learning in Roosevelt, said schools opted to participate in the pilot.
"One of the things that was really appealing about it was that there's so much flexibility in how it works, and that it really can be something that can fit any campus and their current capacity," she said.
Some schools incorporated it into their student governments, while others added it as an elective or an after-school club.
One of the things Gestson learned this year was that teachers probably should be compensated or given a stipend for the additional duties. She'd also add time for professional development to help teachers.
"But what we saw was encouraging," she said. "As I was out and about during the different vote days, every teacher that I interacted with, every sponsor, was ecstatic about their experiences. I heard some version of, 'I can't wait until next year …' Certainly it was powerful, and I see huge benefits for students."
There was also the unintended benefit of getting departments that don't often engage with students—such as finance, maintenance and purchasing—working with them.
Maintenance workers had to explain why a proposal for a new hydration system might not work in a building with old plumbing. Those in the purchasing department helped students understand why they couldn't buy an item from a company that wasn't an approved district vendor.
There are a lot of lessons for students, too. They get to see democracy in action and learn that every vote and voice matters, Orta said.
"They realized it takes a village—in this case, a school—to make something happen," Orta said.
"For me, the teamwork is there," Gochuco said. "Teamwork is very important. It's not possible if only one person works for it. They also learn how to be a leader."
On voting days, for example, older students manned the polling places and helped those in kindergarten navigate the process.
Both Orta and Gochuco, a first-year teacher from the Philippines, said they'd volunteer for the program next year. Cavarez wants to participate again, too.
"It feels amazing [that] everyone could have a chance to vote and know that their voice matters in our school," she said.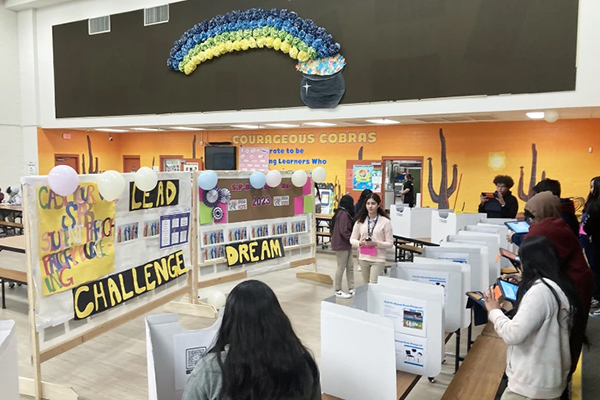 Seventh grade students at John R. Davis School participate in the district's first Vote Day on April 4, 2023, to decide how $2,000 should be spent to improve the school.
— Courtesy of KaRa Lyn Thompson