Most Admired Leaders: From nuclear weapons to founding a 'do tank,' Sybil Francis named Lifetime Achievement winner
Posted on May 12, 2023 • Category: Story
By Angela Gonzales – Senior Reporter, Phoenix Business Journal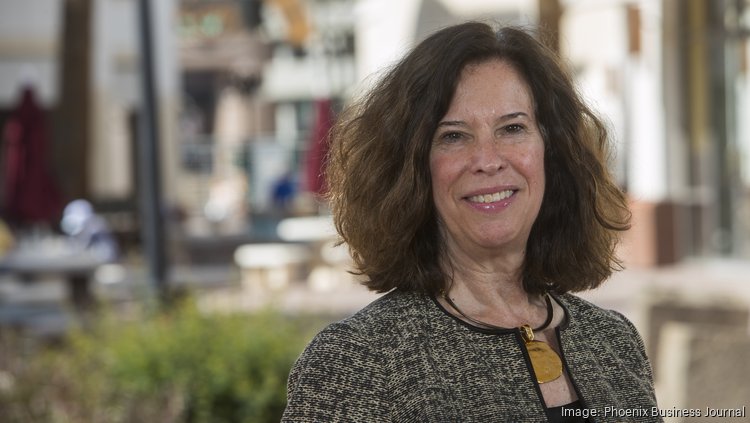 Sybil Francis, President & CEO, Center for the Future of Arizona.
JIM POULIN | PHOENIX BUSINESS JOURNAL
As Sybil Francis is celebrating the 20th anniversary of the Center for Future of Arizona, she also is being recognized for her lifelong contributions to the Grand Canyon State.
Francis, the president and CEO of CFA, is this year's Lifetime Achievement honoree as part of the Phoenix Business Journal's Most Admired Leaders awards.
Originally created as an educational organization co-founded with Lattie Coor, former president of Arizona State University, CFA has morphed into what Francis calls a "do tank," taking a think tank to the next level. Not only does the nonprofit impact education, but it focuses on workforce and civic engagement through programs aimed at changing the trajectory of Arizona to benefit all Arizonans.
The mission of CFA is to bring Arizonans together to create a stronger and brighter future for Arizona, she said.
"We don't feel it's our job to tell Arizonans what's important," she said. "They tell us that."
But that's not how it started.
In the beginning, Francis and Coor would review policy reports, crystalize them down and offer a list of recommendations that leaders should do to improve Arizona.
"We went around the state and asked people to sign off on the vision for Arizona," she said. "It fell flat. That's when we realized rather than analyzing academic research reports, we should go to the people of Arizona and ask them."
About 12 years ago, CFA partnered with Gallup Inc. to ask Arizonans what issues were important to them.
"Arizonans agree more than we disagree about the most important issues facing our state," she said. "What this means is that we can find common ground and have the ability to come together for positive change."
The polls taken 12 years ago and again in 2020 show that Arizonans say education, affordable health care, job training to advance their careers and a clean environment are important to the future of our state, she said.
"We are focused on positive, forward-looking areas where we can bring Arizonans together to build a positive agenda for our future," Francis said. "We have become persuaded that we are divided. We just don't see it in the numbers. We're changing the conversation about Arizona."
Over the years, Francis has served in a variety of national leadership roles, including as a senior policy director in the U.S. House of Representatives, where she played a key role in shaping energy, environmental and national security policy. She later served in the White House Office of Science and Technology Policy, where she focused on national research policy for national laboratories and universities.
But her proudest accomplishment has been building CFA.
"It takes time to really build something," she said. "We have reached a place where we can be impactful and get things done."
Her love story
It all started when her husband Michael Crow accepted a position as president of ASU after Coor retired in June 2001.
"It was an exciting opportunity and I was happy to support him in his role at ASU," she said. "I also wanted an outlet for the work I'm passionate about — public policy."
She met Coor, who had an idea to build CFA. By July 2018, Francis was named president and CEO of the nonprofit, succeeding Coor, who holds the title as founding chair emeritus.
Francis originally met Crow when he was executive vice provost at Columbia University and she had just started working at the White House on science and technology policy in 1996.
She heard there was a conference focusing on one of the godfathers of science technology in the U.S., Vannevar Bush.
"I wanted to go," Francis said. "I was so new and I wasn't sure if they were willing to pay for travel to go to conferences. I remember thinking, what's the worst thing that could happen. I could ask and they say no. They said yes."
It was the conference that changed her life. "It was a great conference — I met my future husband," who happened to be speaking there, she said.
The minute she heard him begin his speech, she thought, "Oh my gosh we are kindred spirits."
The research for her doctorate on nuclear weapons, was a similar topic of Crow's book.
Francis said one of Crow's graduate students introduced her to Crow and they had a brief conversation. A few days later, though, when she was back in D.C., Francis received a copy of his book in the mail, with a note thanking her for attending the conference.
"Not wanting to be outdone, I thought, why don't I send him my Ph.D. dissertation?," she said. "Thus, love was born."
He came to Washington, D.C., a few weeks later and asked her out to dinner.
"I had my grandmother staying with me for a few weeks and I didn't want to leave my grandmother behind," she said. "He didn't skip a beat. Lunch was fine."
Today, they are considered a power couple.
"I don't think about it too much, but it makes me laugh," she said.
---
Sybil Francis
Title: President/CEO
Company: Center for the Future of Arizona
Education: Bachelor's degree, chemistry, Oberlin College; doctorate in political science, Massachusetts Institute of Technology
Known for: Some people may be surprised to learn that prior to co-founding Center for the Future of Arizona, I was known for my expertise on the history of nuclear weapons and that my work is cited in academic publications on the subject.
What you wanted to be growing up: I grew up in the 1970s and vividly recall the first Earth Day and always wanted to work on improving the environment. That was the impetus behind my majoring in chemistry in college and also informed my interest in science and technology policy. This eventually led to the topic of my Ph.D. dissertation and became the focus of my early professional career.
Will never do again: Raft down the Zambezi River! It's exhilarating but terrifying and dangerous.
Best advice received: My husband helped me understand that it's important not to let perfect become the enemy of good — and to just go for it.
Favorite way to relax: I love hiking with my husband, going to movies, reading and doing anything with my daughter.