Updates to Arizona Young Talent Progress Meter Show New Insights
Posted on February 13, 2023 • Category: Progress Meter Updates

CFA recently released the annual update of the Arizona Young Talent Progress Meter, which now includes the most recent data on key indicators impacting the contributions and retainment of young people in Arizona. From cost of living, workplace benefits and culture, to quality of higher education, and more, explore how our state is doing at improving conditions that retain talented young Arizonans as connected and fulfilled assets in our communities.


Insights from the Latest Data Update
In recent years, especially during and after the COVID-19 pandemic, young people have become more aware and concerned about access to mental health services. As seen in the recent update of our Arizona Young Talent Progress Meter, Arizona's lack of access to mental healthcare remains a problem. Compared with the rest of the 51 U.S. States and District of Columbia, Arizona ranks near the bottom in a number of categories, including the overall access to care and access rankings for adults with any mental illness. Worth celebrating is the marked improvement in the youth mental health ranking, which moved Arizona from near the bottom (49th) to 29th in the 2023 report.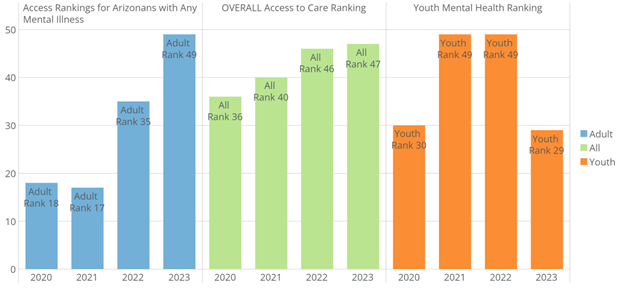 Why is Young Talent Important?
In the recent Gallup Arizona Survey, only 46% of educated young people ages 18-40 with a bachelor's degree or better agreed that Arizona is the perfect place for people like them. When asked the same question, 60% of those older than 40 agreed with the statement.
All across the state, and especially in rural areas, leaders are trying to answer the underlying question: "How do we keep our talented young people in our communities?" In response to this question, CFA spent over two years engaging with young people from across the state to build a set of measures that represent thirteen of their top concerns. Launched in 2021, the Young Talent Progress Meter tracks topics like education, access to mental health services, cost of living and housing, and representation of diverse Arizona voices in decision-making.
Where do the Arizona Progress Meter Data Come From?
As with all the Arizona Progress Meters, data are publicly available from a trusted and regularly updated source. For access to mental healthcare, much of the data are derived from Mental Health America's The State of Mental Health in America annual report.
CFA developed the Arizona Progress Meters as a tool for policymakers, business leaders, civic leaders, educators, and others across the state to understand how Arizona is doing in areas critical to achieving The Arizona We Want. Eight Arizona Progress Meters provide valuable and regularly updated data on 80+ metrics in education, jobs, healthcare, environment, civic engagement, infrastructure, and more to support policymakers and other leaders' data-driven dialogue, decision-making, and action. Learn more and leverage the Arizona Progress Meters today>