WHAT ARIZONA'S LIKELY VOTERS WANT CANDIDATES TO ADDRESS
AS THEY COMPETE FOR VOTES
The Arizona Voters' Agenda provides valuable information about likely voters of all ages and political affiliations and a data-driven guide to what the majority agrees on and wants candidates to discuss in the midterm election. The Arizona Voters' Agenda has expanded with findings from a second survey conducted in late August. The findings reveal additional insights into what voters think about the election, how they select candidates, what the top issues are, and the topics of state spending, water & environment, and affordable housing & homelessness.
KEY INSIGHTS
ARIZONA VOTERS' AGENDA: PRIORITIES BY TOPIC
Despite polarized political dialogue, there is significant agreement and common ground among voters on many public policy issues.
The Arizona Voters' Agenda comprises specific policy items and values statements that a majority of voters across political affiliations and age groups agree are important issues facing the state.
The Arizona Voters' Agenda built on where a majority across political and age groups agree and reflects what they care about most. Issues on the Arizona Voters' Agenda meet all of the following criteria:
"Strongly Agree/Support" is 50% and above among All Likely Voters
Total Support (i.e., the sum of "Somewhat Agree/Support" and "Strongly Agree/ Support") is 50% and above among every political affiliation and age group
SURVEYS & METHODOLOGY +
About the Arizona Voters' Agenda Surveys
The Arizona Voters' Agenda surveys were conducted among likely voters on April 12-19, 2022, and August 20-24, 2022, with a random sample of 500 people for each survey. The polls surveyed likely Arizona 2022 General Election voters with a history of electoral participation and were balanced to model the likely turnout of voters across party, age, region, and gender. The live interview surveys of voters were conducted in English and Spanish by HighGround Public Affairs to landline and cell phone users. Based on previous midterm election trends, the partisan advantage was set at +8% GOP. The margin of error is ±4.3%.
Survey Demographics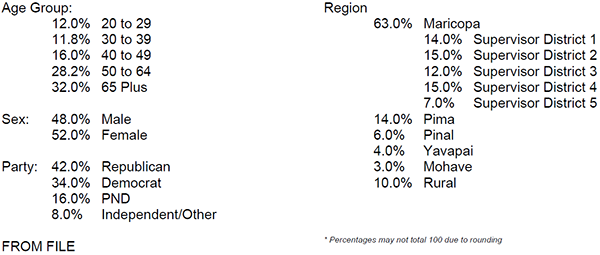 The Arizona Voters' Agenda Surveys point to "big questions" for candidates – a starter list is provided below. We encourage moderators, members of the press, and local voters to foster productive dialogue and seek out real answers.
EDUCATION
What is your plan to ensure Arizona students have quality teachers and principals?
What should Arizona do to increase teacher pay?
What should Arizona do to ensure every school has the resources they need to deliver quality education that prepares every child for the future?
Get even more questions at educationforwardarizona.org/priorities.
ECONOMY, INFLATION & STATE SPENDING
The State of Arizona continues to project a budget surplus for next year. What do you think the state should do with the surplus?
The Arizona Legislature passed a bipartisan budget in June 2022 that included investments of surplus dollars. Do you think additional investments are needed, and what would that look like?
Do you believe Arizona should prioritize cutting taxes or continue investing in critical infrastructure to keep up with growth, and why?
What critical infrastructure investments do you propose/support to best position Arizona for supporting future growth?
What investments would you make in education, transportation, public safety, and other critical infrastructure to support growth?
What investments are needed to support growth while expanding and securing access to key resources, like water and housing, over time?
WATER & ENVIRONMENT
What should Arizona do to protect our water future and secure long-term water supplies?

Should Arizona be planning for a future without Colorado River water?
Is Arizona prepared to handle a water crisis? What more can we do to conserve, regulate, and secure additional water supplies?

What sustainable practices should continue and be implemented to protect Arizona's air, land, and water and foster a high quality of life for all?

What more can be done to preserve and protect Arizona's rivers, natural areas, and wildlife?
How will you ensure Arizona makes sustainable gains on environmental concerns affecting everyday lives and economic vitality, such as forest fires and air quality?

How should Arizona invest in securing our water future, cleaner air, energy improvement in rural areas, protecting our electric grid, and managing our forests?
ELECTIONS
What should Arizona do to keep our elections secure while preventing barriers to participation?
What can Arizona do to ensure that all candidates, regardless of party affiliation, have the same signature requirements to qualify to run for elected office?
Do you support early and mail-in voting, and why or why not?
Do you believe Arizona elections are fair & secure, and are you confident in the accuracy of the results of the midterm elections? Why or why not?
What do you believe is the role of candidates and elected officials in engaging independent/unaffiliated voters?
Do you think candidates and elected officials are more effective at delivering on the priorities of Arizonans when they fight for what they believe is right and refuse to compromise or when they are willing to compromise and work across the aisle to find bipartisan solutions to complex problems, and why?
IMMIGRATION
How do you define a functioning border for commerce, and what is your vision for immigration reform?
How should Arizona influence the Federal Government in creating a pathway to citizenship for DACA recipients and dreamers who were brought to Arizona as children?
How do your immigration plans strengthen our business relationships with Mexico and our economy for the long term?
AFFORDABLE HOUSING & HOMELESSNESS
What should Arizona do to address inflation and rising costs and make housing more affordable?
How do you propose to ensure all residents have access to housing that is safe and affordable?
What can Arizona do to ensure developers and landlords support efforts to make affordable housing accessible?
WHAT DIDN'T MAKE THE ARIZONA VOTERS' AGENDA?
The survey covered a wide array of issues, and some highly publicized topics did NOT reach the level of support necessary to be considered a priority of a majority of voters, including:
Opposing the teaching of critical race theory and controversial topics.
Reducing income taxes.
Eliminating mail-in voting.
Changing the law to require those who vote by mail to provide their driver's license number or voter ID number in order for their vote to count.
Completing the wall on the border between the United States and Mexico.
Check out our resources for tips for redirecting candidate conversations to focus on voters' priorities.