Meet CFA's Statewide Arizona Pathways to Prosperity Team!
Dedicated support reaches all corners of Arizona
Posted on May 15, 2023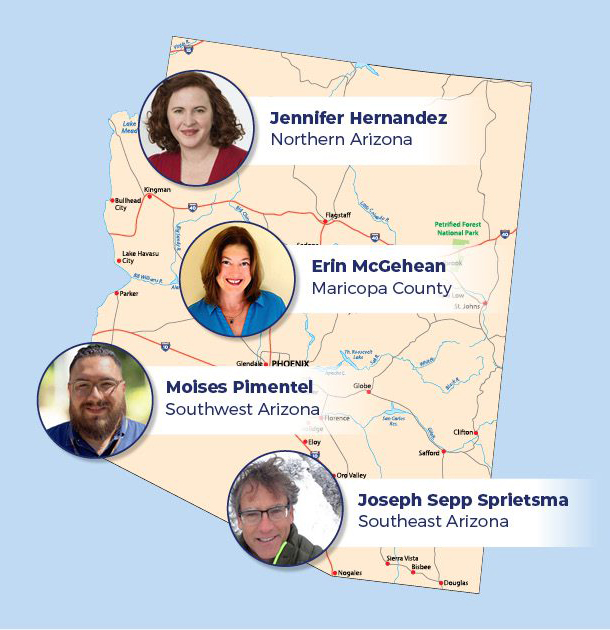 Arizona Pathways to Prosperity (APTP), a Center for the Future of Arizona (CFA) impact initiative, is focused on increasing individual and statewide economic prosperity for the long term. Our statewide team expanded this past year to include additional regionalized experts. They work with local education and industry partners to develop and provide college and career pathways that help young people advance from high school to postsecondary education, and into family-supporting careers.
Join us in celebrating the expanded APTP team. Our newest regional experts share what they love about Arizona and how that inspires their passion for CFA's mission to bring Arizonans together to create a stronger and brighter future for our state.
Jennifer Hernandez: Project Manager, College & Career Pathways – Northern Arizona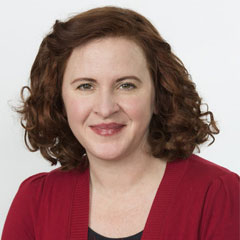 "The Hernandez family has called Northern Arizona home for over 20 years. I love the variegated landscape in this beautiful part of the state, where cactus and ponderosa pine coexist harmoniously. Northern Arizona is also home to many great educational systems- pre-K through postsecondary- and by working collaboratively to strengthen pathways within those systems, we have an exciting opportunity to help young people realize their full potential, which in turn, fortifies and enhances the quality of life for the entire community."
Erin McGehean: Project Manager, College & Career Pathways – Western Maricopa County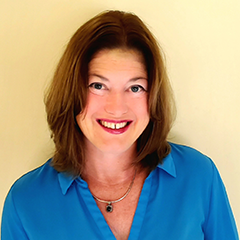 "I have lived in Arizona for 30 years and my husband has lived here his entire life. We live in New River and love being so close to nature and surrounded by the natural desert landscape. I was excited to join CFA and the Arizona Pathways to Prosperity team because of the work we do connecting youth to high wage career pathways and providing opportunities for generational change. I am passionate about this because we are embedded in our communities, and I want to be a part of helping to provide positive growth in my community."
Moises Pimentel: Project Manager, College & Career Pathways – Southwest Arizona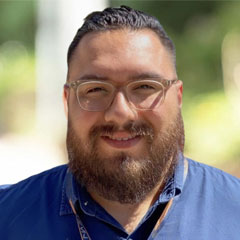 "Yuma County has been my home for over 30 years and what I love most about our community is the people. We're always willing to work together to make a positive impact in our community. Which is why CFA's mission strongly resonated with me, 'Bringing Arizonans together to create a stronger and brighter future for our state.' I'm proud to say that Yumans are quick to come together to make things better for future generations and am beyond excited to represent CFA and its love for Arizona in our region."
Joseph "Sepp" Sprietsma: Project Manager, College & Career Pathways – Southeast Arizona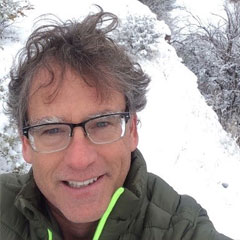 "I have lived and worked in Southeast Arizona (Cochise County) for just under 25 years, on a small farm, along the banks of the San Pedro River. I was drawn to this place due to a combination of family connections, the desire to start a small organic farm, and be in a place filled with nature to raise kids with my wife, Lisa. I am drawn to the Pathways work due to the cross sector and ecosystem approach of connecting K-12, post-secondary education, employers, nonprofits and community members in a grassroots effort that invests in the future of all Arizonans. The phrase that comes to mind each day as I engage with students, teachers, and community leaders - 'together, we are stronger.'"
Our newest team members joined fabulous APTP colleagues:
Aaron Ball, Director, College & Career Pathways Liaison, Southern Arizona
Cindy Erwin, Director, College & Career Pathways
Maya Watts, Project Manager, Career Exploration
Learn More About APTP's Three Keys to Pathways: Career Exploration | Early College Programs of Study | Work-Based Learning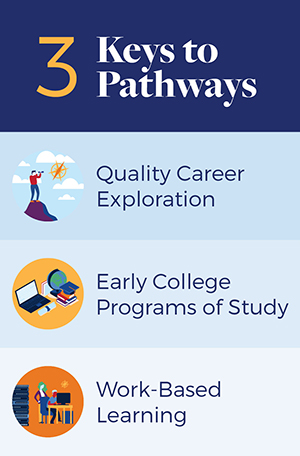 APTP provides avenues for career exploration for grades 6-12 and soon for K-5 students. Our scalable and highly adaptable Possible Futures Career Exploration Curriculum familiarizes students with the modern labor market and in-demand industries. It encourages them to explore their interests and talents early on to see how they complement potential career opportunities in their future. Plus, it's accessible online and ties into the Arizona Education Career Action Plan for all students.
Early College Programs of Study
By bringing the business community and community colleges and high schools throughout Arizona together, APTP has identified skills and credentials needed for employment in high-demand sectors– such as advanced manufacturing, healthcare, and cybersecurity– and designed student achievement pathways that allow students to earn at least 12 college credits while in high school.
Work-based learning enables students to experience practical, real-world workplace applications and improve their potential for career advancement and upward economic mobility. APTP is increasing access to work-based learning experiences for all students through innovative models for internships, apprenticeships, and educator externships.
Help ensure every student in Arizona has the opportunity to create and achieve their ideal college & career pathway. Contact our team to continue the discussion.